National Film Board of Canada Collection
In Flawed, author Andrea Dorfman tells the true story of how she falls head over heels for Dave, "the nicest guy in the world." But she is conflicted about her feelings for her new love. He's a plastic surgeon; she hates plastic surgery and its power to make people feel flawed.
Dorfman's playful and colorful illustrations along with her deeply personal writing takes readers through the genesis of her self-image -- from the carefree days of her childhood to the gut-wrenching awkwardness of her adolescence, and beyond. When she realizes that her negative self-perception is stopping her from being happy, Dorfman makes the bold move to accept herself as she is -- imperfections and all. As Dorfman concludes, it's our flaws that make us extraordinary.
In the tradition of the NFB's creative and innovative storytelling on film comes the National Film Board of Canada Collection: a series of celebrated animated films, documentary films and media projects adapted for the printed page.
Whether discovering a much-loved classic for the first time or interacting with a favorite film in a new and exciting way, readers will be delighted with the thought-provoking stories and inventive presentations of the National Film Board of Canada Collection.

​​​​​​​
This sweet and perceptive graphic memoir, based on Dorfman's Emmy-nominated short film, explores how falling in love with a plastic surgeon forced Dorfman to face her own long-held belief that she was physically flawed... Dorfman's characters are drawn in a simple, almost childlike style, with short text in a picture book layout; her use of bright colors and decorative patterns in a flattened perspective may remind readers of works by Matisse. Dorfman's whimsical portrayal will speak to any reader who struggles with body image. PUBLISHERS WEEKLY
(starred review) Illustrated lessons in self-acceptance. Originally brought to life as a time-lapse film, Canadian animator Dorfman's memoir excels at tugging at the heartstrings as she shares key aspects of her being. The striking cover art, featuring a vivid, digitally rendered cartoonlike self-portrait of the author in profile--her nose prominently depicted with ruler lines--leaves little mystery as to the source of the Toronto native's inner turmoil. Dorfman reveals that when she first met future love interest and plastic surgeon Dave, when housesitting one summer in Halifax, she had already decided she wouldn't like him because it bothered her "that his job was to operate on perfectly healthy people in an attempt to make them 'beautiful.' " But after finding herself irresistibly drawn back to their summer romance, the author suggested the two cultivate a long-distance relationship by sending each other handmade postcards. Expecting Dave to shy away from her artistic challenge, Dorfman's prejudices against plastic surgery were shattered when he happily sent her an illustration of his day spent working on patients with skin cancer. Dave's courage in expressing himself artistically (not to mention loving the author, nose 'n' all) inspires Dorfman not only to rethink her judgment of his vocation, but eventually to re-evaluate her own sense of being flawed. Bold, funny, and brimming with emotional intelligence: a charming debut. KIRKUS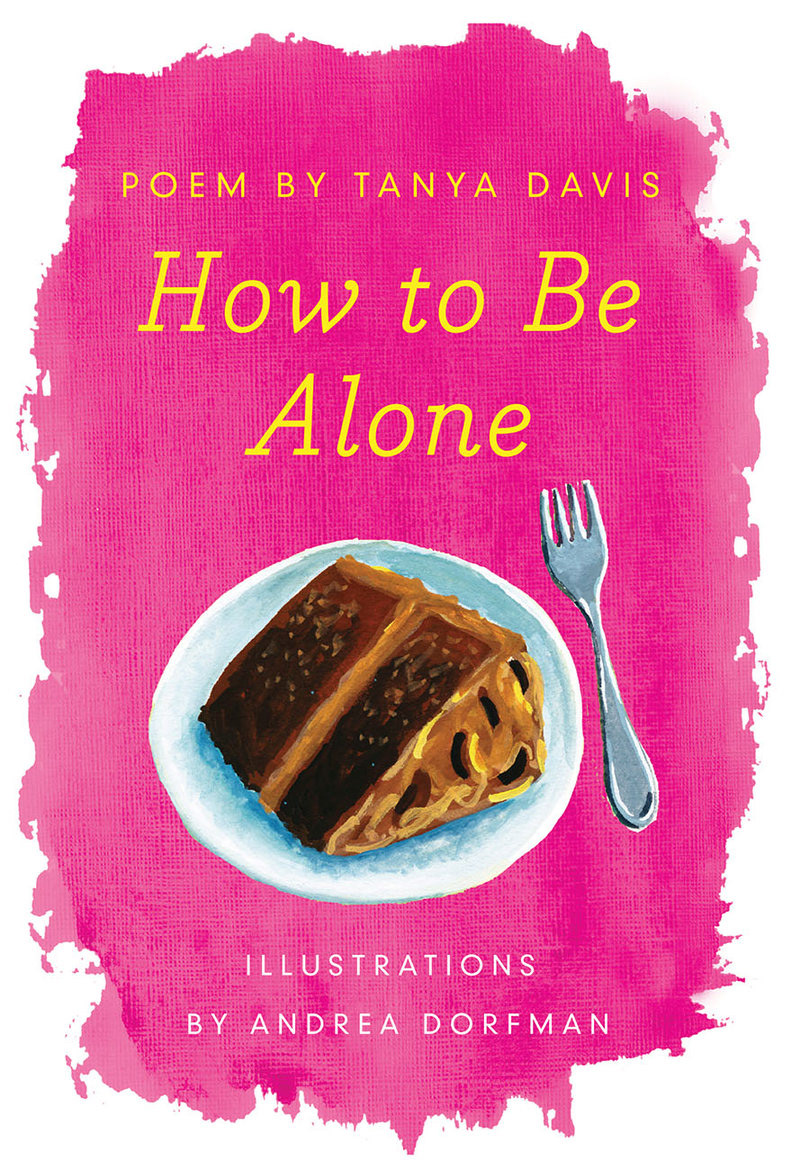 Since its debut on YouTube, Tanya Davis's beautiful and perceptive poem "How to Be Alone," visually realized by artist and filmmaker Andrea Dorfman, has become an international sensation. In this edition of How to Be Alone, they have adapted the poem and its compelling illustrations for the page in a beautiful, meditative volume—a keepsake to treasure and to share. 
From a solitary walk in the woods to sitting unaccompanied on a city park bench to eating a meal and even dancing alone, How to Be Alone, reveals the possibilities and joys waiting to be discovered when we engage in activities on our own. As she soothes the disquietude that accompanies the fear of aloneness, and celebrates the power of solitude to change how we see ourselves and the world, Tanya reveals how, removed from the noise and distractions of other lives, we can find acceptance and grace within.

For those who have never been by themselves or those who embrace being on their own, How to Be Alone encourages us to recognize and embrace the possibilities of being alone—and reminds us of a universe of joy, peace, and discovery waiting to unfold.